"Kanban is a strategy for optimizing the flow of value through a process that uses a visual, pull-based system. There may be various ways to define value, including consideration of the needs of the customer, the end-user, the organization, and the environment, for example." – From the Kanban Guide
We have been coaching and training teams on Kanban for years, and helping them improve the value that flows through their system. We write about these topics at Improving Flow.
Additionally we offer the Applying Professional Kanban (APK) course from ProKanban.org and our trainers are all Professional Kanban Trainers (PKT) through them.
Upcoming training classes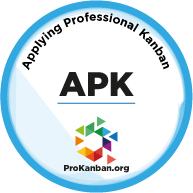 Applying Professional Kanban (APK)
September 25-26, 2021 (Sat/Sun)
Class held over zoom, 9:00am-5:00pm (EDT / Eastern)